Programs, Activities & Services
Bendigo Neighbourhood Hub brings people together to connect, learn and contribute to our local Bendigo community through providing a range of ever changing social, educational, recreational and support activities.
At Bendigo Neighbourhood Hub we have a strong focus on providing community advocacy and support services that focus on the development of individuals and families, ensuring everyone has the opportunity to access services and supports within our community and to live their life to their fullest potential.

Bendigo Neighbourhood Hub also play a key role assisting in our community through emergency management and building community resilience during and in the aftermath of local
emergencies such as bush-fires, floods and of course most recently COVID.
New course
We're super excited to be offering our newest course - Introduction to Goolge Drive - it's another free course designed to help people learn the skills to use one of the worlds most used programs.
With Google Drive you can create documents and spreadsheets, share you work with other people and save your work to the clouds. It's a free program - all you need is a gmail account (which is also free and super easy to set up it you don't already have one).
NEW PROGRAM
Dungeons & Dragons
We're so excited to have a new program for young people between 10-16 years old.
We have 2 fabulous new volunteers who will be running a 4 week DUNGEONS AND DRAGONS program - this is a great way to introduce young people to this exciting game - no prior experience required and you don't need to bring anything.
Parents are welcome to stay and watch their kids explore the exciting world of D&D's.
Please register your interest by contacting us with your (or your child's) name, contact number and a brief line of why they are interested) or send an email to dm.bendigohub@gmail.com.

Join our Team
We're looking for community minded people to join our team. We have volunteer roles available in on our admin team and in our neighhour assist program (helping people fill in forms, apply for payments etc.). You can volunteer for a couple of hours, for the day or for a couple of days. We are Centrelink accredited so you can complete your Centrelink Mutual Obligation hours with us.

New Social Group
We're starting a new social group (in partnership with Brain Injury Matters). If you have an Acquired Brain Injury or are (or willing to be) a carer, friend or ally we'd love you to come along. During our first get together we'll set the agenda for the group including what activities we'd like to do (movies, cafe's)m how often and when. This group group is all about meeting new people in a safe and welcoming environment.
Services available from July 2022

Power Saving Bonus
All households are now eligible to apply for the Victorian State Government's $250 Power Saving Bonus. We're here to help you apply - bring your Electricity bill & bank details to us 9am-2pm weekdays - no appointment required & it's a free service (eligibility criteria applies).

Australian Citizenship
We're here to assist people to apply for Australian Citizenship. Contact us to make an appointment to commence your application - this is a free service supported by funding from City of Greater Bendigo.

English Language Classes
Our basic English language classes are for people from refugee and non-English speaking backgrounds - available every Friday 10am - 11.30 in Sailers Gully.

Digital Literacy Classes
These classes are for anyone who would like to learn how to use technology - from using a computer, smart phone, tablet to learning how to use Word, download apps, set up emails, use the web, pay bills on-line, set up on-line accounts and so much more. Every Wednesday 9.30 - 12.30 - no appointment necessary - just come along and join in.

Learn to Sew
If you've ever wanted to learn to sew now is the time to get started. Our Learn to Sew classes are for beginner sewers - you'll learn how to thread a machine, sew a vareity of stitches, how to choose fabric, insert a zip and use a variety of features on a sewing machine. This is a fun filled class where you'll make crafty masterpieces and meet new people. Beginners class commencing Term 2 - contact us for more details.
NEIGHBOUR ASSIST
Our Neighbour Assist program is all about providing assistance and support to our neighbours, the members of our community.
Through our Neighbour Assist program we're here to help people with everyday life tasks from creating my.gov accounts & linking services, applying for Centrelink payments, applying for Citizenship, connection essential services, completing rental applications, advocating for access to services and so much more.

Contact us to make a one on one appointment.
Trans & Gender Diverse Bendigo & Beyond
Trans and Gender Diverse Bendigo and Beyond is a peer led community group focused on improving health and well-being for the trans and gender diverse community in regional and rural Victoria.
TGD Bendigo and Beyond was formed in February 2020 and has grown out of community need for social support and activities that empower the trans and gender diverse community in regional areas.
The key priorities of our projects are for participants to feel safe, supported, welcome and included.
We promote community connection, engagement and confidence through hosting and attending various events, groups and training opportunities around Victoria.
TGD Bendigo & Beyond run a variety of activities to promote opportunities for the transgender community to connect with each other and the broader community - including monthly social group gatherings at Bendigo Neighbourhood Hub, clothing swaps and more.

TGD Bendigo and Beyond is proudly auspiced by Bendigo Neighbourhood Hub.

Here's a few more things that are happening at The Hub

Safe Seats, Safe Kids
In partnership with KidsSafe & Neighbourhood Houses Victoria we are offering FREE car seat restraint safety checks and fittings. This is available to anyone who transports children - it's a way of ensuring our littlest VIP's are kept safe. Bookings can be made via: https://safeseatssafekids.com.au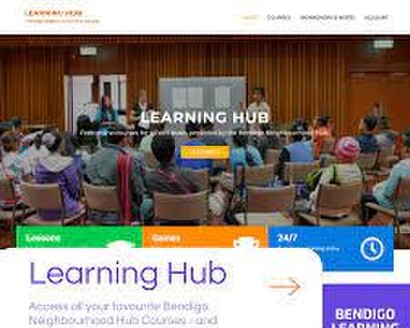 Bendigo Learning Hub
Why not take the time to check out our on-line learning hub - we've posted many of our courses on our learning hub website, giving our community the opportunity to participate in our courses in the comfort of your own space.

Clothing Drive
Now is always a good time to clean out your wardrobe....we are collecting quality used clothing and accessories to be used in the TGD Bendigo and Beyond clothing swaps. Drop your donations into us any weekday between 9am - 3pm or, contact us and we can organise to collect them from you.
There's so much more that happens at Bendigo Neighbourhood Hub
The best way to keep updated about what's happening at Bendigo Neighbourhoood Hub is

to keeping checking our webpage, follow us on facebook, join our
mailing list, volunteer with us, join one of our courses or social
groups or simply keep popping into our workplace.